The Space for Shore project involves the full participation of nine technical partners, which are all experts in the development of coastal or land monitoring solutions from Earth Observation data and specialists of coastal erosion issues. An additional partner is enrolled to support the market analysis and service roll-out.
The geographical location of the partners and their respective networks allows covering five countries of the European Union and nine distinct coastal regions, encompassing most types of European coastlines.
More informations on the partners can be found below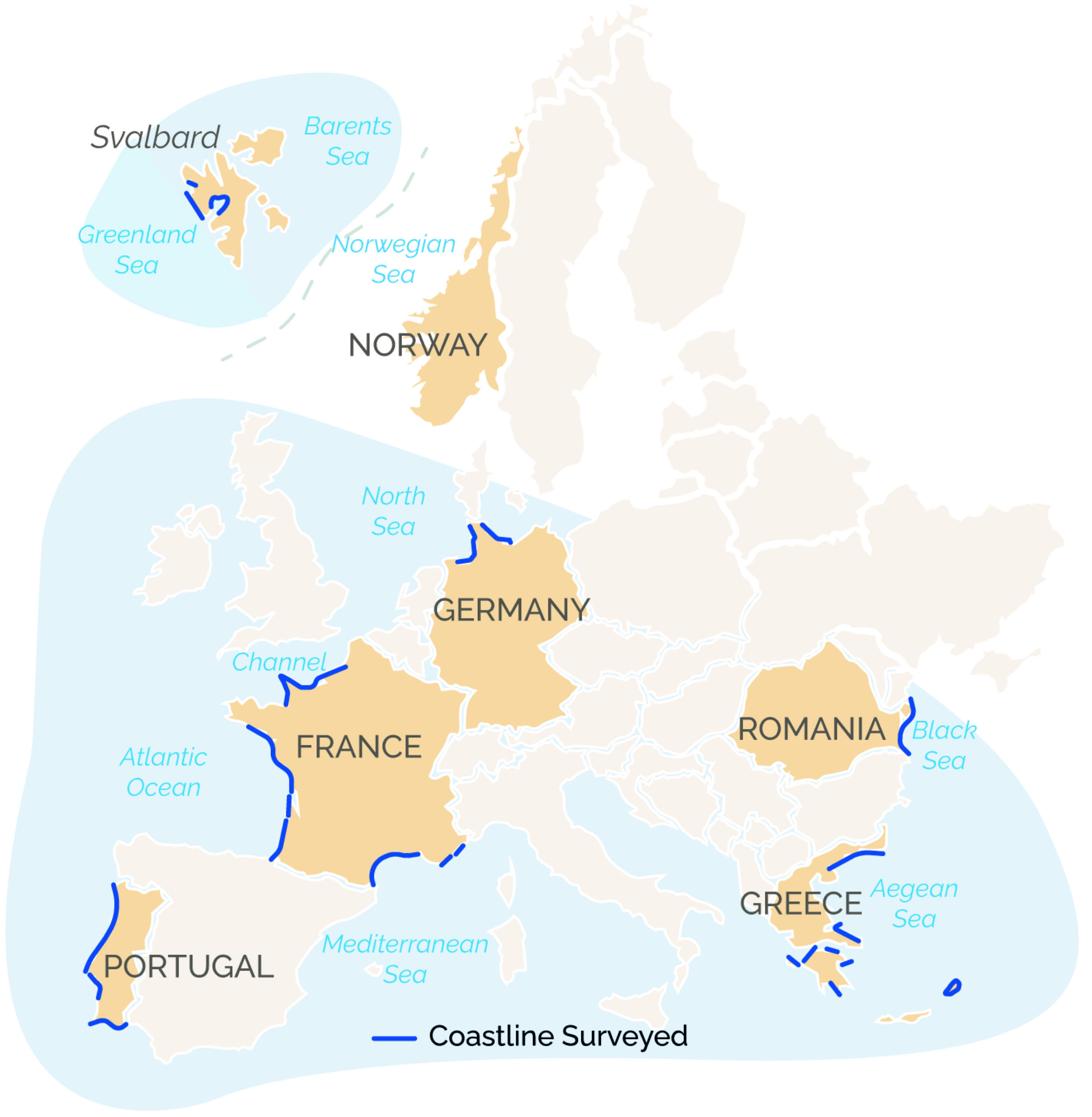 i-Sea is a private company located in Bordeaux (France) founded in 2014 by a team of coastal oceanographers. Spin-off of an hybrid technological department at Bordeaux University (Geo-Transfert / ADERA Association), the founders have 15+ years of experience in coastal issues : coastal geomorphology and sediment dynamics, coastal hydrodynamics, marine biology and applications of satellite remote sensing to these areas of expertise.
i-Sea is part of the phases 1-4 of the Coastal Erosion Project (2019-2023).
Contact : Manon Besset – manon.besset@i-sea.fr
Harris Geospatial Solutions France is part of Harris, along with its affiliate division, Harris – Space and Intelligence systems. Since the beginning of its history, in 1998, Harris Geospatial Solutions France
has worked to contribute in an active way to the development of vertical solutions software and products. Harris Geospatial Solutions France has been focused on providing data analysis, visualization, exploitation and dissemination solutions for over 20 years, and possesses significative experience in the development of custom scientific and geospatial solutions.
Harris Geospatial Solutions was part of the first and second phase of the Costal Erosion Project (2019-2020)
Brockmann Consult GmbH (BC) is a private company offering services for the management of environmental data, in particular from Earth Observation. The company comprises two complementary branches : The Environmental Informatics Department and the Geo-Information Services Department.
Brockman Consult GmBH is part of the phases 1-4 of the Coastal Erosion Project (2019-2023).
The Institute of Oceanography (Institut für Meereskunde, IfM) at the University of Hambourg (UHH) has strongly been involved in multiple kinds of national and international co-operations. SAR remote sensing has been a research topic in the Remote Sensing Unit at UHH-IfM since the late 1980s. Fundamental research has been performed to provide a better understanding of the radar backscattering from water surfaces and to derive geophysical parameters from SAR imagery. After the SIR-C/X-SAR missions in 1994, one research focus has been put on the radar imagining of exposed intertidal flats, resulting in a number of scientific publication on the topic.
The Institute of Oceanography is part of the phases 1, 2 and 3 of the Coastal Erosion Project (2019-2022).
Taking advantage of the resoucrces, skills and experience built since 1989 that the company was establised, TERRA SPATIUM (former Spot Infoterra Hellas SA) a Greek SME company, offers advanced solutions expanding in the whole range of Geo-information for advanced markets and applications. Based on our proven capacity to provide dedicated imagery data and tailored Geoinformation products, we built-up towards the establishment of spatial knowledge management systems and user oriented geo-servcices.
Terra Spatium is part of the phases 1, 2 and 3 of the Coastal Erosion Project (2019-2022).
The Department of Geography of Haroskopio University (HUA) was establised in 1999 and focuses its activities on subjects like human and physical geography and geoinformatics. Within the Geography department, a remote sensing groupe has been built over the years and now rely on a team made of geologists, geographers and engineers who have extensive experience in scientific research, synthetic aperture radar (SAR) and interferometric signal processing, active microwave remote sensing techniques, theoretical and empirical modeling, and application development.
Haroskopio University was part of the phases 1 and 2 of the Coastal Erosion Project (2019-2020). 
The Center of Environmental and Marie Studies (CESAM) is an Associated Laboratory of the University of Aveiro. CESAM's mission is to develop leading international research on environmental sciences and related risks, including extreme weather events and climate change with a special emphasis on complex socio-ecological coastal systems and marine areas.
CESAM is part of the phases 1-4 of the Coastal Erosion Project (2019-2023).
Established in 2007, TERRASIGNA's main business line is to analysis, processing and interpretation of different types of Earth Observation data. It provides customized Geo-Information services to a wide pool of public and private national, European and international clients.
TERRASIGNA is part of the phases 1, 2, and 3 of the Coastal Erosion Project (2019 – 2022).
SCMF is home of the Coastal Research Group in University of Bucharest. It is based in Bucharest (Faculty of Geography) and Danube Delta (Sfantu Gheorghe village, Tulcea county, Romania). The research activities are related to a wide range of coastal topics: coastal landscape evolution (deltaic lobes, barrier spits and islands), coastal geomorphology (beach morphodynamics, foredune development, nearshore sandbars behaviour), coastal climate (storm evolution and impact, climate variability), nearshore hydrodynamics, river mouth behaviour.
SCMF is part of the phases 1, 2, and 3 of the Coastal Erosion Project (2019 – 2022).
Kapitech – is a Polish engineering company, founded in 2014, has the headquarters in Warsaw, specialized in innovation management in the space business and consulting. It's a subsidiary of the French company – Capital High Tech, founded in 2003 and specialized in innovation management consultancy.
Kapitech was part of the phases 1 and 2 of the Coastal Erosion Project (2019 – 2020).